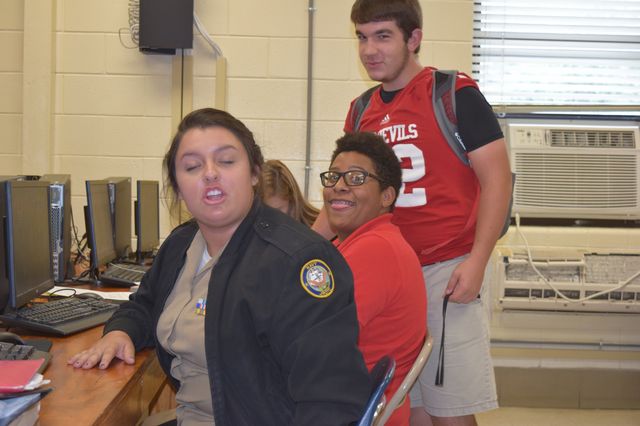 Newspaper/Yearbook Journalism Syllabus 2017-2018
Mrs. Skinner – hskinner@hampton1.k12.sc.us
803-943-3568
Course Description
In this course, students will gain journalism skills required for publishing a digital newspaper, athletic program and high school yearbook. They will receive instruction and practice in: page design, advanced publishing techniques, interviewing, copy writing, editing, and photography. They will learn marketing skills and be responsible for ad sales and fundraising. They will also learn to use public relations methods to promote Wade Hampton High School to its various audiences.
High quality work is expected and students will be given opportunities to redo work until it meets or exceeds standards specified during instruction.
Classroom activities will include reading, research, projects, writing, and problem solving. Students will often work in teams, but they will also complete individual assignments in relation to the team's work. At times, deadlines will require that staff members work after school, on weekends, and holidays. Students will learn good work habits and will be responsible for all phases of digital newspaper, athletic program and yearbook publication.
Course Objectives:
1. Students will learn and use publishing and journalism industry terminology.
2. Students will become familiar with and effectively use Yearbook Avenue and Student Newspaper (Flex Wordpress)Online sites.
3. Students will work with various types of technology (such as a digital camera, computer, scanner, and social media) to produce a yearbook, athletic program and digital newspaper.
4. Students will apply computer skills and design principles to the production of yearbook pages.
5. Students will learn and use effective copy writing techniques.
6. Students will shoot, select, and crop photographs for layout
7. Students will meet all deadlines.
Class Requirements:
· Students will complete all assigned pages/articles.
· Students will participate in fundraisers and mass marketing efforts.
· Students will include names of every person on every photo.
· Students will spell correctly 100% of names.
· Students will design to the proper specifications.
· Students will follow the correct theme.
· Students will shoot (take pictures) and write copy as assigned.
· Students will plan a yearbook distribution event.
· Students will complete all miscellaneous assignments and projects.
(All while maintaining an upbeat attitude!)
Production Quality/Deadlines = 50%
Ad Sales =10%
Participation (daily, newswriting, fundraisers, marketing) = 40%
A = 100-90 % B = 89-80 % C = 79-70 % D = 69-60 % F = 59-0 %
Production Grade
All students are expected to work and participate in the sale, distribution, and production of the yearbook and in the ongoing production of the digital newspaper. In doing so, students will complete a variety of activities learning the skills necessary to create both publications. They will also be divided into production teams, and each team will be given specific assignments that may include but are not limited to creating yearbook/newspaper/athletic program pages, taking pictures, planning or working events, writing, or participating in specific activities. When working in a production team, each member of the team will be given both individual and group responsibilities; the completion of and quality of the completion of these responsibilities will count as a grade.
Out of Class Participation & Extra Activities
Students are expected to participate in outside of class activities. Due to the nature of publishing deadlines, students will be expected to work during other classes during the school day, periodically after school, and maybe Saturdays to meet deadlines. This may mean students will need to attend after school events to take photographs and gather information, work a football game, hang posters, or work during underclassman pictures – just to name a few. Students may also decide to go above and beyond when selling advertisements or sponsorships and/or excelling with fundraisers. When students complete work outside of class or go beyond the minimum when selling ads or participating in fundraisers, these activities are calculated as a part of students' grade each quarter.
Fundraising
Fundraising is another way the yearbook staff generates money to reduce the cost of the yearbook and pay for Journalism Class equipment and supplies. All students are expected to participate in yearbook fundraisers; therefore, participating in yearbook fundraisers is a part of students' grade each quarter.
Ad Sales
Business and senior ad sales are vital to the production of a high school yearbook. Although the price we charge for a yearbook may seem expensive, it is even more expensive to produce. This is one of the reasons we sell advertisements to businesses and graduating seniors. Therefore, students are expected to sell yearbook ads or sponsorships. Students are expected to earn at least 240-400 advertisement points for the year by the deadlines listed below. There will be training and instructional time devoted to helping students acquire sales. These advertisement points will be distributed in students' grades each quarter as outlined below.
Costs of Ads are as follows:
Whole page $250
Half page $150
Quarter page $100
1/8 page $75
Sponsor listing $20
DUE BY: October 19th , January 11th
Type

Amount

Quarterly

Points Earned

Quarterly

Grade Earned

Sponsorships

$20-$89

60

60

Combination of sponsorships and/or advertisements

$90-$147

70

70

Combination of sponsorships and/or advertisements

$148-$159

80

80

Combination of sponsorships and/or advertisements

$160-$179

90

90

Combination of sponsorships and/or advertisements

$180+

100

100
Parents, please support your students in acquiring sponsorships and ads! You have an established network with area businesses and community members, so your influence can truly help our yearbook success!
Sign here to acknowledge you have read this syllabus. When your student shows it to me, I will award 20 free sales points for this quarter!
Cut and return bottom portion.
By signing below, you acknowledge the various components of Mrs. Skinner's Journalism class. Please email me to help me build my parent contact list for ongoing communication: hskinner@hampton1.k12.sc.us. I look forward to a great year!
Student Name:__________________________________________Class Period________Date____________________________
Parent Signature:__________________________________________________________
Email___________________________________________________________________
Please share questions, comments, or specific goals you would like your student to achieve this year.
____________________________________________________________________________________________________________________________________